Are you looking for the best gyms in Wellington? You're not the only one. Wellington is famous for its outdoor activities and scenic trails. But for those who want a more structured fitness routine, gyms are the perfect destination. With their modern equipment, top-notch facilities, and expert trainers, gyms offer a supportive environment that motivates and challenges people to achieve their fitness goals.
This article focuses on The 5 Best Gyms in Wellington. It covers a range of options, from luxury boutique studios to budget-friendly chains, highlighting what makes each gym unique. Regardless of experience level, there is a gym for everyone. So, grab your gym bag and get ready to sweat it out at one of the best gyms in Wellington.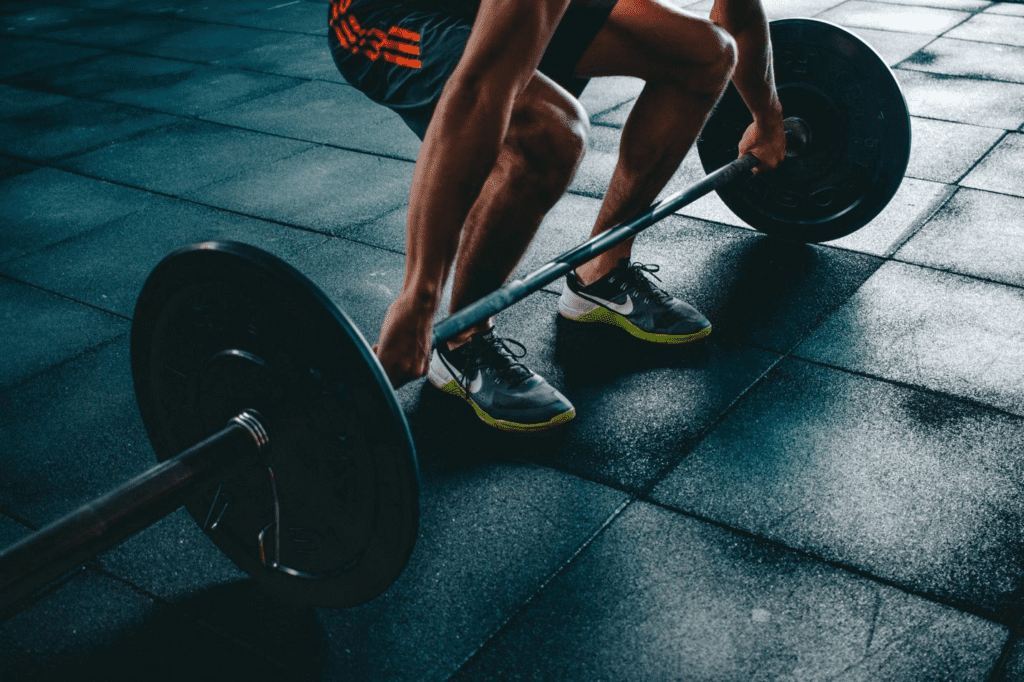 When selecting a gym, it is crucial to consider your requirements and fitness objectives. A traditional gym may be more suitable if you are satisfied with the basic equipment and facilities. Ultimately, it is vital to choose a gym that aligns with your needs and promotes your fitness goals, regardless of whether it is a luxury or traditional gym.
What makes the Perfect Gym Option?
When selecting a gym, it is important to consider various factors to ensure it meets your needs. Research and careful consideration can help make the decision less daunting.
Location: When selecting a gym, consider its location and choose one that is convenient, whether it is near your home or workplace.
Equipment: Please ensure that the gym provides the necessary equipment for you to accomplish your fitness objectives.
Amenities: When choosing a gym, it is important to consider the available amenities, such as showers, lockers, and classes.
Cleanliness: It is important to confirm that the gym is clean and properly maintained for a sanitary workout atmosphere.
Staff:It is recommended to seek out staff members who are both friendly and knowledgeable in order to receive assistance with your fitness journey.
Price: It is recommended to evaluate the gym's membership costs and determine if they align with your financial plan.
Trial:It is recommended to try out a gym before committing to a membership. Many gyms provide a free trial period, allowing individuals to determine if the gym is suitable for their needs.
Selecting a gym is a personal choice that is influenced by one's individual requirements and inclinations. Do not hurry into making a decision; instead, take your time. The gym that facilitates your fitness objectives and provides a pleasurable experience is ultimately the most suitable one for you.
Which gym membership is good?
When choosing a gym membership, it is important to consider your individual fitness goals, preferences, and budget. Some common options to explore include various types of memberships.
Basic gym membership: This membership offers access to the gym's fundamental amenities, including equipment and locker rooms, at a reasonable cost.
Premium gym membership: This membership level provides access to supplementary amenities, including group classes, personal training, and high-end equipment, at an increased cost.
Boutique gym membership: Boutique gyms often have focus on one type of fitness programs, like yoga or HIIT. They tend to offer a more individualized experience with smaller classes and specialized equipment.
Online gym membership: Online gym memberships provide access to virtual fitness classes and workouts that can be conveniently completed at home or while traveling.
When selecting a gym membership, it is advisable to take into account your fitness objectives, availability, and financial plan to decide on the right type of membership. Additionally, it is crucial to conduct research and compare various gym alternatives in your vicinity to discover the most suitable option for your requirements.
The top-rated Gyms in Wellington are:
The following are major gym chains that can be compared for options. It should be noted that this list is not comprehensive, and some gyms may have better short-term pricing not listed. Prioritize understanding before committing.
The term duration is at a minimum.
The fee for canceling.
Please inquire about any available vacation time if you are interested in taking a few weeks or months off.
We are looking for any available offers or incentives that could lower the total expense.
Anytime Fitness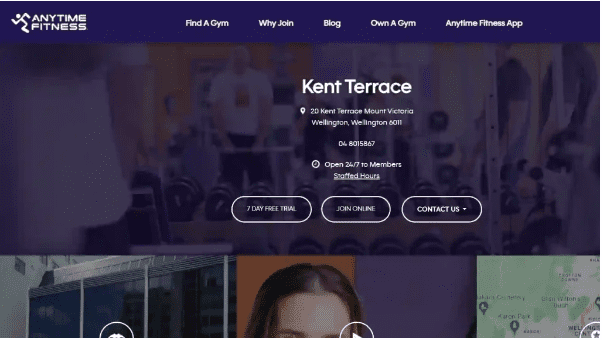 Location: 20 Kent Terrace, Mount Victoria, Wellington 6011
Phone: 04 801 5867
Web: Anytime Fitness
The initial fees include a start-up fee of $49, but a 7-day free pass is available for those who wish to try out the experience and facilities before committing.
Membership options:
12-month term $16.99 per week
6-month term $18.99 per week
Month-to-month $20.99 per week
Anytime Fitness in Wellington is a suitable gym for your lifestyle. It offers 24/7 access, top-quality equipment, and a friendly atmosphere to help you achieve your fitness goals. The gym's personal trainers and staff are available to assist you throughout your fitness journey, whether you want to lose weight, build strength, or stay active.
Jetts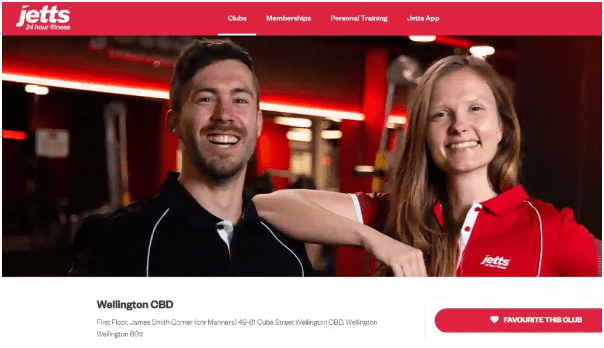 Location: First Floor, James Smith Corner 49, 61 Cuba Street, Wellington 6011
Phone: 021 531 717
Web: Jetts
The start-up fee for this service is $49, but occasional specials may apply such as a $10 start-up fee with a $39 discount. Students who are at least 14-years old can receive a discounted start-up fee of $29.
Membership options:
Jetts Fitness provides various membership plans with lower weekly fees for longer commitments.
Month-to-month – $12.99 per week
Everyday active 12-month commitment – $10.99 per week
Everyday active 18-month commitment – $9.99 per week
Pay in advance 12 months – $470
Pay in advance 6 months – $300
Pay in advance plus (for 65-years and older) 3 months – $13
Jetts Gym in Wellington offers 24/7 access, top-notch equipment, and no lock-in contracts. The gym is designed to help you prioritize your health and fitness. The staff is friendly and supportive, and the workout areas are spacious and modern. Whether you are a seasoned athlete or just starting out, Jetts Gym is the perfect place to achieve your fitness goals.

Les Mills International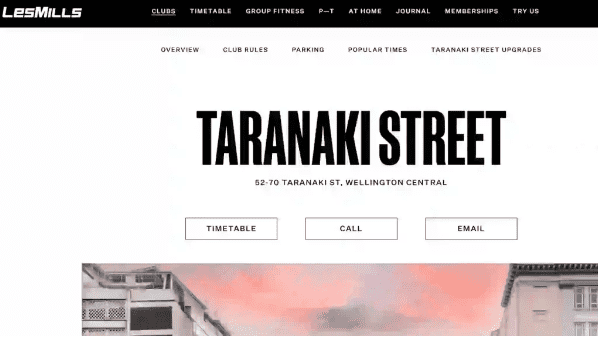 Location: 52/70 Taranaki Street, Te Aro, Wellington 6011
Phone: 04 384 8898
Web: Les Mills
The initial fee for joining is $29.
Membership fees:
Single-Club Options:
12-months: $28.50 a week
24-months: $25.50 a week
12-month tertiary: $25.65 a week
Multi-club Options:
12-months $29 a week
24-months $26 a week
12-month tertiary $26.10 a week
Prepay $32.50 a week
The Wellington location of Les Mills is a popular gym franchise. It provides a variety of group fitness classes, such as Body Pump, Body Combat, and RPM, and personal training services. The gym has a large workout area with cardio machines, weightlifting equipment, and functional training spaces. Members can also enjoy the sauna and steam room facilities. Les Mills aims to create a friendly and inclusive community, making it an excellent choice for enhancing one's health and fitness.
CityFitness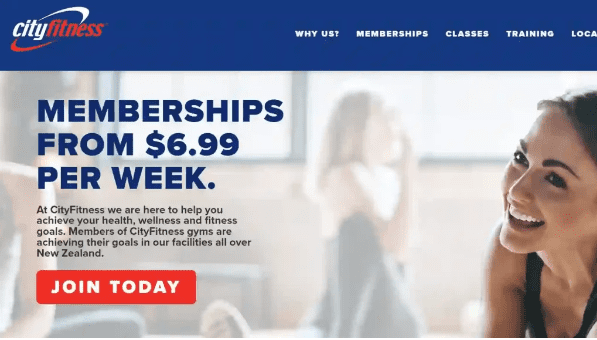 Location: Grand Arcade, level 2/16 Willis Street, Wellington 6011
Phone: 04 470 7650
Web: CityFitness
The initial fee for joining is $49.
CityFitness provides three different membership options with corresponding fees:
Basic – 12-month commitment at $6.99 per week
Better – Month-to-month commitment at $11.99 per week (cancel anytime)
Black – Month-to-month commitment at $13.99 per week (cancel anytime)
The 'Black' membership provides complete access to all available features:
Free guest passes
Family membership options
Group cycle and fitness classes
Massage chair accessibility
Free premium Wi-Fi
City Fitness Gym has modern and spacious facilities with state-of-the-art equipment. They offer cardio machines, weightlifting equipment, and functional training areas. Group fitness classes, personal training options, and 24/7 access are available for all. The staff are friendly and experienced, ready to help with anyone's fitness journey. City Fitness has everything needed for anyone to get fit, stay motivated, and have fun, regardless of experience level.
Snap Fitness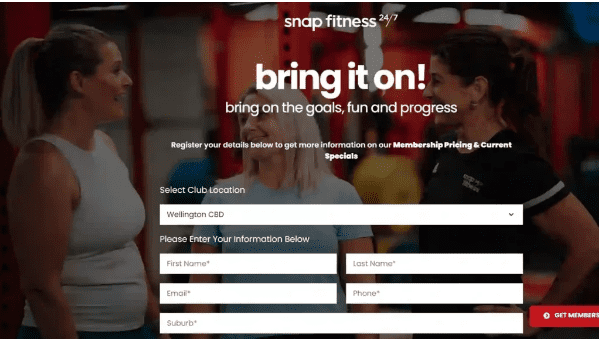 Location: 26 Willeston Street, Wellington 6011
Phone: 0273081199
Web: Snap Fitness
The initial fees for membership may vary by location and typically include a $29 start-up fee and a $49 fee for an access card.
There are two options for membership fees: $16.95+ per week for a 12-month contract or $18.95+ per week for a month-to-month contract.
Snap Fitness is a gym that many people use for fitness training. It has modern equipment and experienced trainers to make sure you feel comfortable and safe while exercising. This gym offers a variety of options for different fitness goals, such as building muscle, losing weight, or improving overall health. It's convenient with 24/7 access and flexible memberships to fit busy schedules.
Wellington Gyms Recap
Choosing the right gym can make all the difference in achieving your fitness goals. Whether you're looking for a state-of-the-art gym with world-class trainers or an affordable option with 24/7 access, there's a gym in Wellington that's right for you. Consider these top 5 best gyms in Wellington when making your decision.
Frequently Asked Questions
How much does a gym membership cost?
The weekly pricing for gyms in Wellington varies greatly, ranging from $7 to $80+ depending on the location. Typically, the cheaper deals require a longer-term commitment.
What happens if I quit or cancel the gym membership before my fixed term ends?
It is important to note that if one decides to terminate their gym membership within the agreed-upon time frame, they may be subject to a penalty fee. This fee can vary from 25% to 90% of the remaining membership fee, so it is crucial to fully comprehend the terms before signing up. It should be noted that a gym membership is considered a credit contract, and failure to comply with the terms and conditions may result in debt collection.
Why are 24/7 gyms so much cheaper than established gyms?
Gyms with 24/7 access tend to have lower costs due to operating without staff during off-peak hours and offering limited facilities.
Will I pay more than my weekly gym membership fee?
It is important to note that there may be additional fees beyond the initial quote. These fees can include direct debit fees, failed payment fees, joining fees, access card fee, and replacement card fee. To avoid confusion, it is recommended to inquire about the total cost including all charges.
What happens when my fixed-period gym membership ends?
It is important to review your gym contract to understand the requirements for cancellation, as failure to do so may result in automatic renewal for another fixed term period. If unsure, it is recommended to inquire about the necessary steps and obtain written clarification to avoid any misunderstandings.
How do I get the best deal?
To save money, shop around and try free trials before committing to a gym membership. Wait until January for incentives offered by gyms. Don't take a long-term deal if you can't commit financially and/or physically. Before signing any contract, ask about total fees and cancellation penalties.